GEVELRIDDER M
15 augustus 2022

GEVELRIDDER M
€1,950.00 (Excl. BTW)
€

2,359.50
(Incl. BTW)
Gevelridder M is a lightweight aluminum hoisting equipment. Ideal for transporting in a bus. This Gevelknight is extendable and usable up to and including the 1st floor. Supplied complete with spacer.
Uitverkocht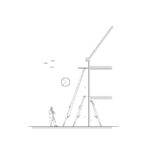 The Gevelridder M is a compact hoist with pull-up installation and 1-meter extension bracket that makes work easier and easier. Type M can be used in two and three parts. Thanks to the separate intermediate piece, Gevelridder M has a range of up to 6 meters.
Gevelknight M
It is an ideal product for lifting heavy objects, both indoors and outdoors. By using the extension bracket you can easily lift it over a windowsill, for example, or place the Gevelridder at a distance from the wall, allowing you to drive between it with a panel trolley.
You attach the load (the object) to the lifting hook and set it in motion by turning the winch. This allows you to bring the object to the workplace without any problems. With Gevelridder M, products can even be lifted onto the first floor through a window. Ideal for movers!
Thanks to its compact, collapsed size, this type can easily be taken with you in a car or small bus. De Gevelridder is recommended in the Glazing Arbocatalogue. By using this product, your hands are free during installation and you are no longer exposed to danger on stairs and ladders. Transport length 2400 mm, foot width 850 mm. Extendable up to 4 meters in 2 parts 250 kg. Using the third part, extendable to 5850 mm, 200 kg maximum.
Risks work without Gevelridder M
Lifting is very taxing on the body, especially if it is done often. When lifting heavy objects, there is a risk of damage to the back muscles, the connective tissue around the spine or the intervertebral discs. The heavier you lift, the greater the chance of damage. But lifting light objects can also lead to damage, for example because this has to be done in an unfavorable position (crouched, twisted or with raised arms) or by lifting too often in succession with too little recovery time. For more information. 
Are you looking for a specific type of Gevelknight? Contact us.
The Geverridder ensures that you get your job done vertically efficiently and safely. We recommend our glass trolley for horizontal transport
DE:  Facade Ritter, fresh Hebevorrichtung aluminum, up to 5.85 mtr 200 kg.
These prices include no shipping costs for travel in the Netherlands and Belgium.
FR:  Façade Chevalier L'élévateur de aluminium, sur 5.85 mtr, 200 kg.
Less prix ne comprent pas les frais de livraison pour les clients en dehors des Pays-Bas et en Belgique.
UK:  Sir LiftAlot, Facade Knight, Aluminum lifter up to 5.85 m, 200 kg.
Prices do not include shipping costs for customers outside the Netherlands and Belgium.
| | |
| --- | --- |
| Gewicht | 23 kg |
| Afmetingen | 2.25 × 0.85 × 0.40 cm |
| Ingeschoven lengte (meter) | 2.25 |
| Uitgeschoven lengte (meter) | 6.00 |
| Eigen gewicht (kg) / Steigerhoogte | 23 |
| Breedte voet (meter) | 0.85 |
| Max. belasting met tussenstuk (kg) | 200 |
| Max. belasting (kg) | 250 |
| Ingeschoven lengte met tussenstuk (meter) | Nee |